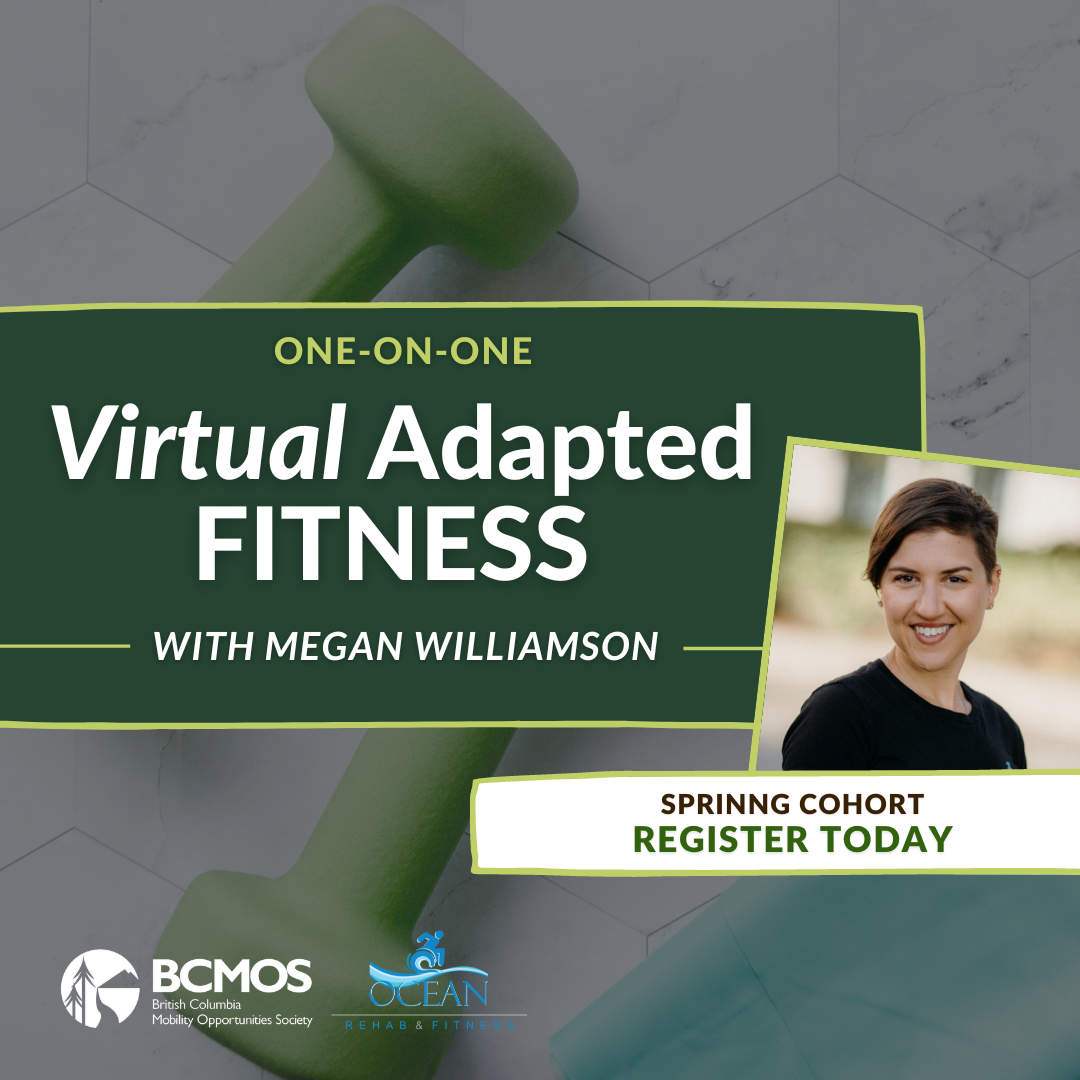 At BCMOS, our goal has always been to empower people with disabilities to be active and healthy in away that aligns with their personal level of ability.
After a long and arduous search and a push to move online by the COVID-19 pandemic, we are proud to expand our reach and offer a brand-new program for our clients to stay active and engaged all year round; Virtual Adaptive Fitness. That's right – we're no longer limited to the summer season!
To offer this program, BCMOS has partnered with Megan Williamson, an adaptive fitness coach and the founder of Ocean Rehab and Fitness, an organization that specializes in adaptive training for those that live with spinal cord injuries and other physical disabilities.
Learn more about Megan and Ocean Rehab and Fitness
---
How it works
Running in seasonal three-month cohorts, BCMOS will pay for 25 participants to join the Ocean Rehab and Fitness' Ocean Insider's Club.
Ocean Insider Club is an exclusive online fitness resource for those living with spinal cord injuries, other physical disabilities and independent seniors. The exercises and workout programs are tailored with efficiency and accessibility in mind, as well as following the international exercise guidelines for spinal cord injury. Whether you have access to a public gym, or you plan to work out at home, there are dozens of exercises and programs for everyone, no matter what your limitations may be.
As a participant, you will get the following:
One initial introductory set up call with founder and head coach Megan Williamson
lear instructions on warm up and stretching exercises to decrease pain and improve flexibility
Weekly tailored online workout sessions with a trained Kinesiology student
Access to carefully tailored at home and gym- workout programs for all different abilities and goals
Monthly check in calls with Megan to track your fitness progress and keep accountability
Trainer Tip Videos to accompany you throughout your exercises at home or at the gym
A FREE set of fitness bands mailed right to your home
Testimonials
In order to test out this program, we ran a pilot Summer cohort with 25 participants. Here's some of the things they had to say about the program:
It was good to meet and work with Megan through this short project and I shall carry the knowledge and routines with me and will work with Megan and her team again

Carl, BCMOS Pilot Cohort Participant
Megan and her team of Kinesiology students provided me with an exercise program that I could follow at home. They assisted me to make adjustments when the exercises and my disability conflicted. The Ocean Rehab & Fitness website clearly demonstrates each exercise describing its benefits, its safety and cautions. This new experience of virtual exercise was valuable and is something that will accompany me for life.

Linda, BCMOS Pilot Cohort Participant

Megan really knows her stuff and is so attentive and kind, always searching for ways to help her clients (me!) and providing practical advice to improve efficiency. Her workouts are very manageable, and she customized these so I got maximum benefit. I am so glad to now count Megan as a member of my care team.

Nicole, BCMOS Pilot Cohort Participant
Ready to achieve your fitness goals? Registration for the summer cohort begins April 25th!
Join us for our Fall cohort, beginning September 11th. Click the button below to register for our Fall cohort!
Schedule
This program is virtual, so it will be hosted entirely online. You will learn more about this in your orientation.
Our next cohort starts on September 11th.
Click the button below to register for our Fall cohort!
Thank you to all of our participants!
Help us fundraise for a winter cohort