We empower and inspire people with physical disabilities to re-imagine what is possible through the provision of wilderness access opportunities. British Columbia Mobility Opportunities Society (BCMOS) was formed to make the Vancouver outdoors more accessible, which we do through our hiking and paddling programs.
---
HIKE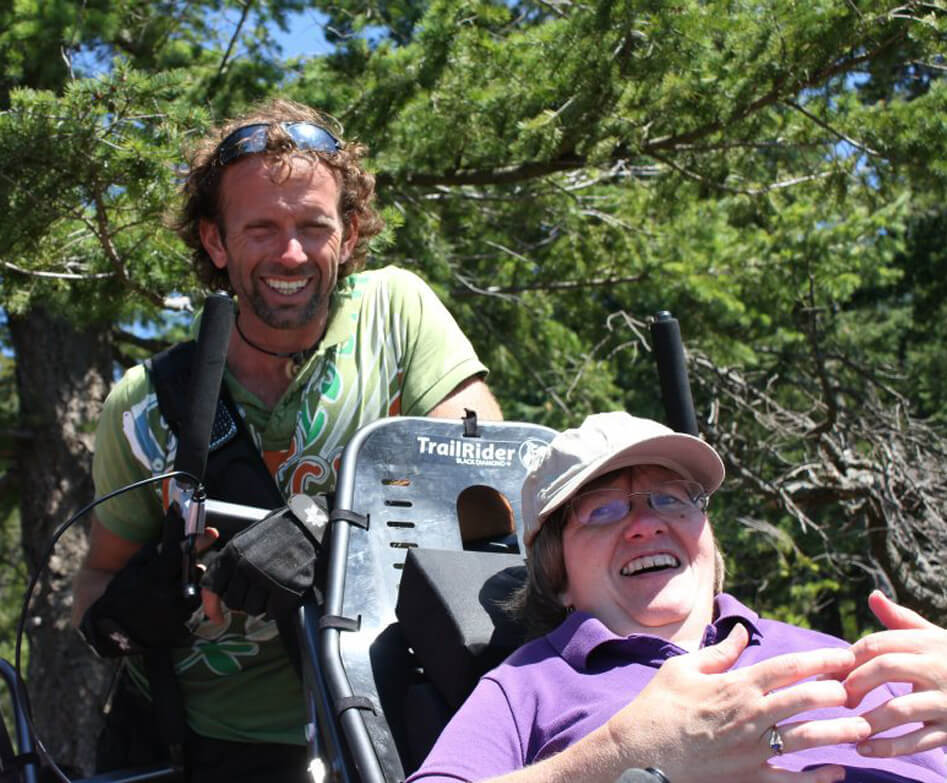 BCMOS operates a hiking program during the summer months from a base at Vancouver's Pacific Spirit Regional Park. Our accessible Hiking Centre enables people with physical disabilities to explore a network of trails through woodland and down to Spanish Banks – or locations further afield (tell us where you want to go – check out suggestions here.) The 1,885-acre Pacific Spirit Regional Park, on the University of BC Endowment Lands, is the third-largest regional park in the Greater Vancouver Regional District. It is a multi-purpose recreational area used by hikers, joggers, cyclists and equestrian riders.
---
PADDLE
BCMOS operates a summer paddling program from a purpose-designed base at False Creek, Vancouver. Our accessible Paddling Centre, which opened 2016, is located right outside Creekside Community Centre (1 Athletes Way, Vancouver). It's well placed for the Main Street/Science World and Olympic Village SkyTrain stations, and Main Street bus routes. Southeast False Creek is a sheltered and peaceful stretch of water, adjacent to Science World. It's surrounded by parks and condos, with views of city condos and the North Shore Mountains, and close to restaurants and pubs. We are part of the city's new "greater paddling community," sharing the docks with dragon boaters.
---
Adapted Fitness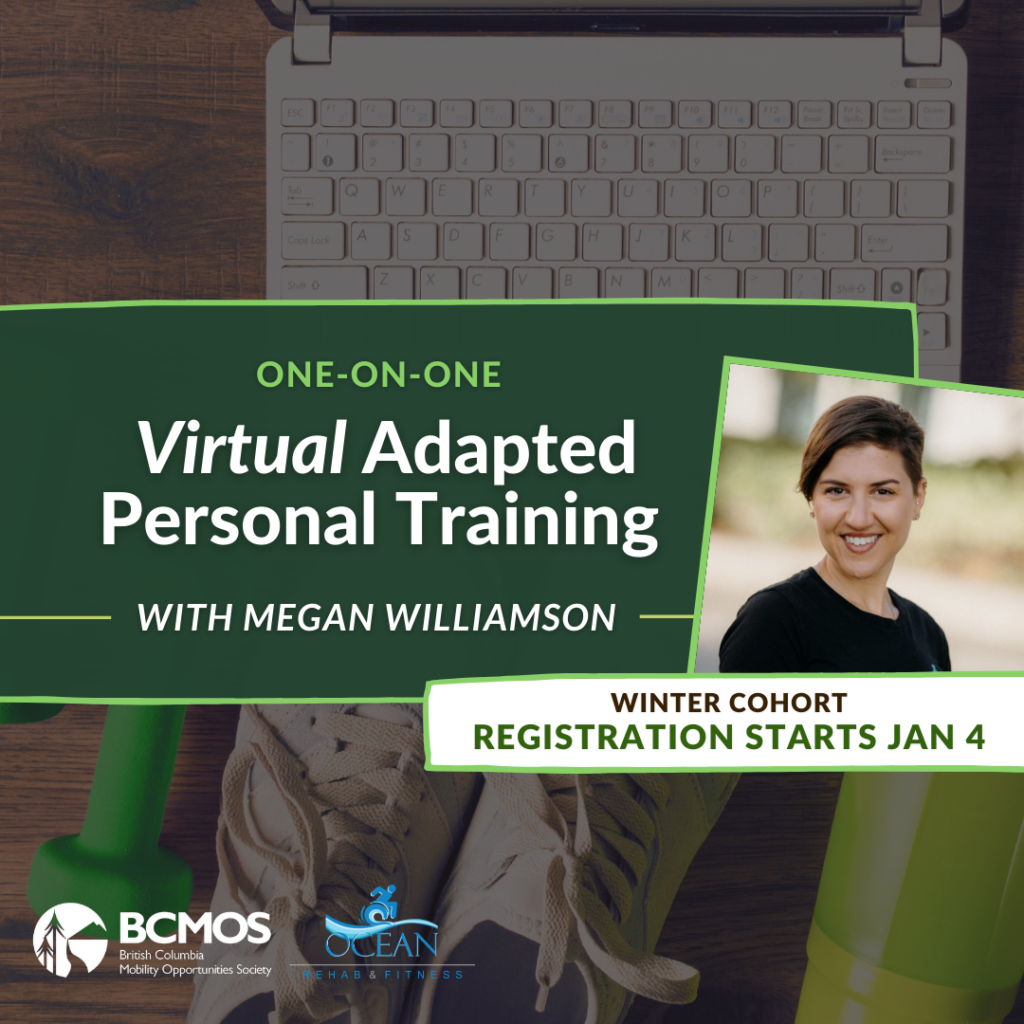 At BCMOS, our goal has always been to empower people with disabilities to be active and healthy in a way that aligns with their personal level of ability. After a long and arduous search and a push to move online by the COVID-19 pandemic, we are proud to expand our reach and offer a brand-new program for our clients to stay active and engaged all year round; Virtual Adaptive Personal Training. That's right – we're no longer limited to the summer season!
To offer this program, BCMOS has partnered with Megan Williamson, an adaptive fitness coach and the founder of Ocean Rehab and Fitness, an organization that specializes in adaptive training for those that live with spinal cord injuries and other physical disabilities.
---
Adaptive Cycling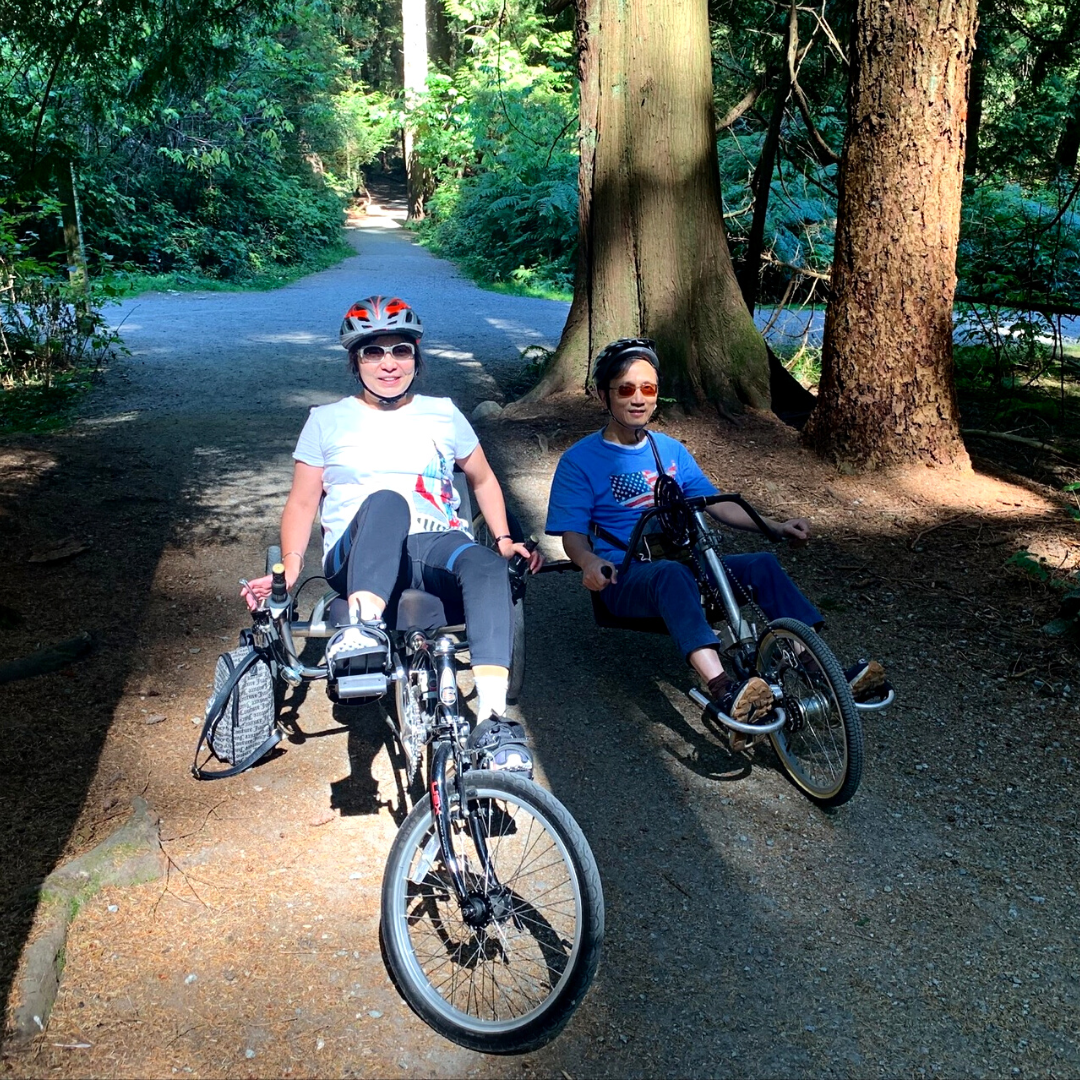 New this summer! Join us for 1-1.5 hour cycling excursions around Pacific Spirit Park. Starting May 16th, call or email BCMOS for more information. The cycling season will open on June 6th.
Phone: 236-513-4453
Email: info@bcmos.org
---
The Disability Foundation and its affiliated societies comply with COVID-19 protocols as determined by the provincial health authorities (e.g., BC: https://www.worksafebc.com/en/covid-19). Our workers and volunteers will follow such protocols and must be vaccinated to work with and within our organizations (offices, program locations, and home visits), unless a medical exemption is in place. To protect our workers and volunteers, we expect our clients and partners to comply with COVID-19 health and safety regulations which means fully vaccinated unless there is a medical exemption.
Thank you for making everyone's health and safety the top priority.